Jim Ostrycharczyk was born in Berlin, 1973, now living in Hamburg.

Diploma in German Sign Language Interpreting (Hamburg).
Diploma in Visual Communication (Arts, Hamburg).

Does Design, Performance, Video, Ceramics, Jewellery, Photography and Fanzines about different forms of cultural tradition and cultural transfer.

Interested in representations of language, signs, gestures and other forms of information, repetition and remembrance.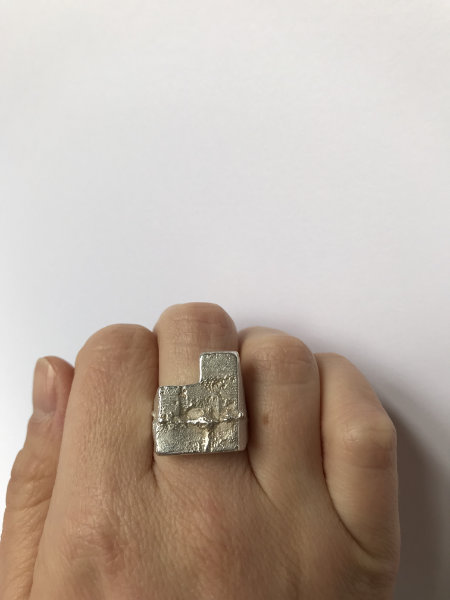 Silver (925)
Silver (925), gemstones
2019

Four and a half tatami and a hanging scroll alcove. Each tatami is a gemstone.

During the traditional Japanese tea ceremony you do not wear jewelry in order to protect the tea bowl. These rings are made for the days when you do not participate in a tea ceremony but long for a tatami room with macha. When wearing the ring with gemstones the wish is even greater.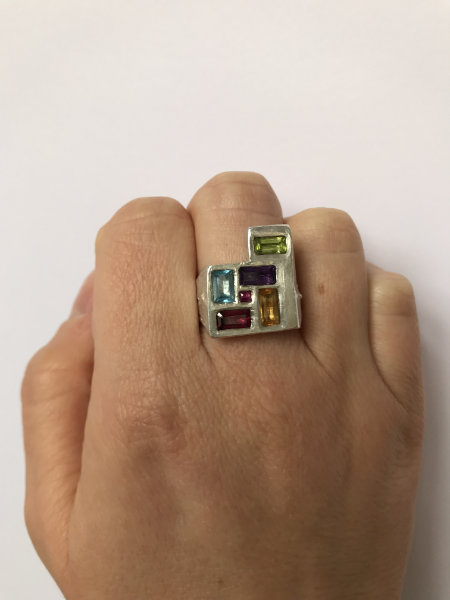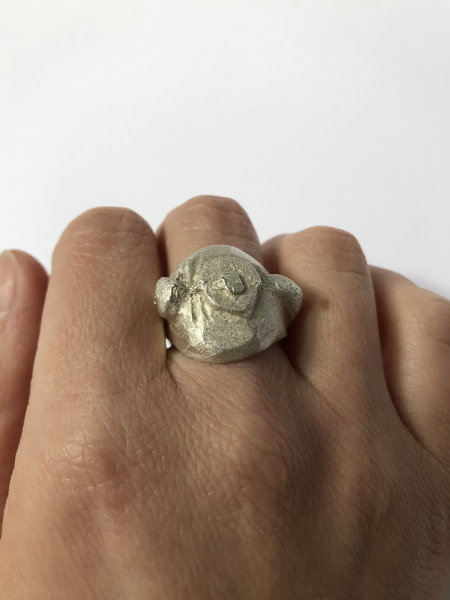 Silver (925)
2018

Teapot to go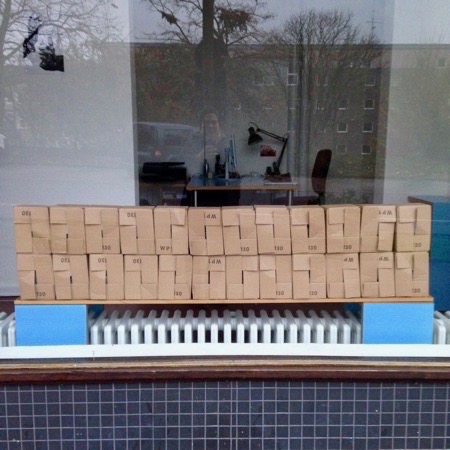 Ceramicscalendar
1 - 24 of december 2017, Hamburg

I made a tea bowl calendar. I put 24 card boxes in a shop window and every day from december 1st to december 24th I turned one of these boxes to share different tea bowls. Several neighbours said the numbers 1 to 24 are missing on the boxes, they said it´s too little glitter. I like it the simple way. An Advent Calendar counts the days from December 1st to December 24th. Many children in Germany open each of these days one of the 24 cut out "doors" of a decorative piece of card to see a seasonal picture behind each door. Often the numbered doors are distributed across the calendar in no particular order. There are many variations of advent calendars: some reveal a piece of chocolate, a little toy or a poem. On December 24th, Christmas Eve, you can see the biggest picture, for example a manger or Christmas tree.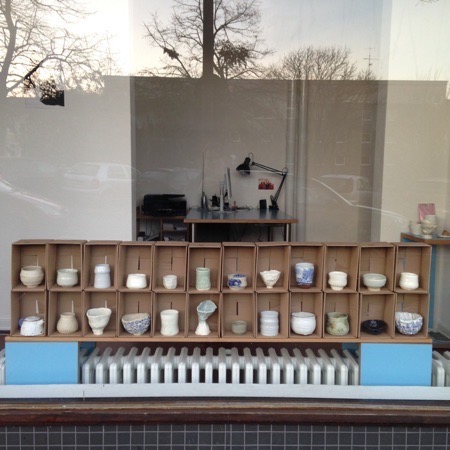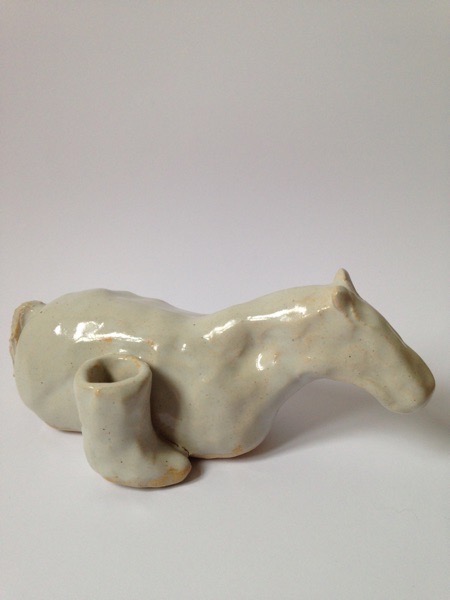 Horse vessel
2017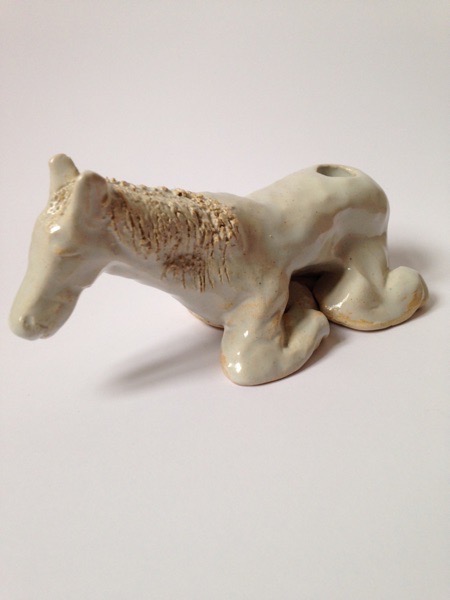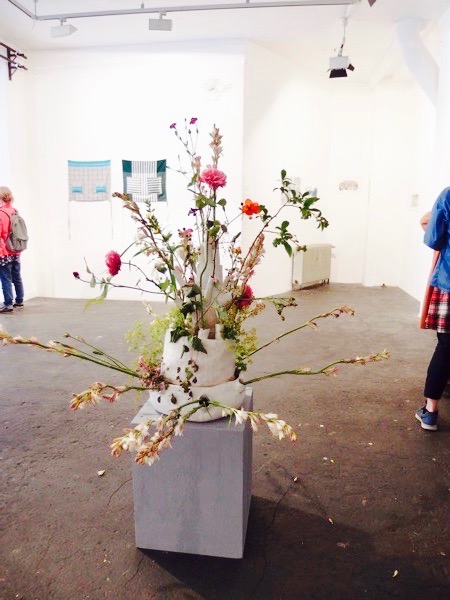 Vaseflowertree
white clay, blue glaze pen, matt white glaze
Part of the group exhibition
Flowers in the house - no need to see a psychiatrist
Westwerk, Hamburg, 2017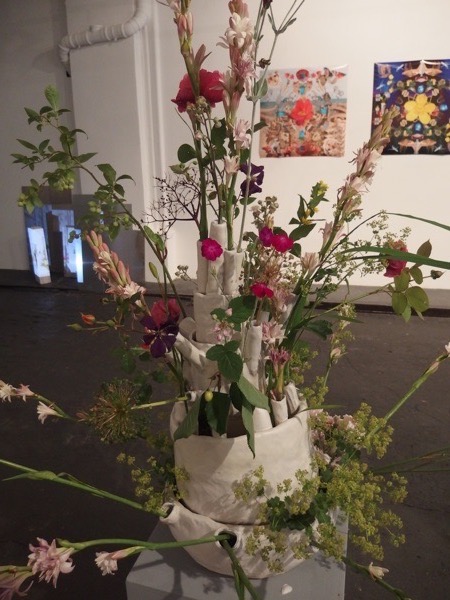 Silver Rakugan
Silver (925)
2016

Japanese sweets made of pressed sugar, eaten during tea time, cast in silver. Several ways of arranging them as individual brooches or a brooch area. Maple leaf, ginko leaf, chestnut, blossoms.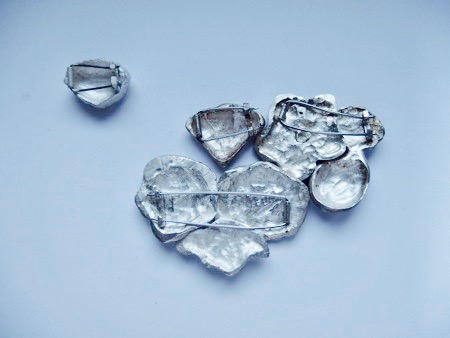 Ikenakunatteshimaimashita
Video, Le Roi et moi, 3:11 minutes, 2015

Splendid distant lands. Interpretation. New and unknown, crystal clear.
When I was your girl
Video, Le Roi et moi, 3:50 minutes, 2015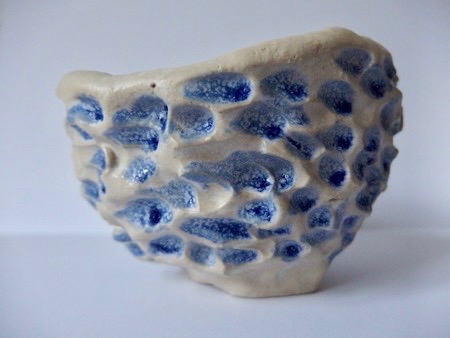 Pinch bowl, glazes: white, light blue, blue
2015

A japanese potter said if you watch a teabowl you have a certain weight in mind. The teabowl should be ligther than you imagine it. Well mine has more weight than you imagined. Weight takes you back on earth.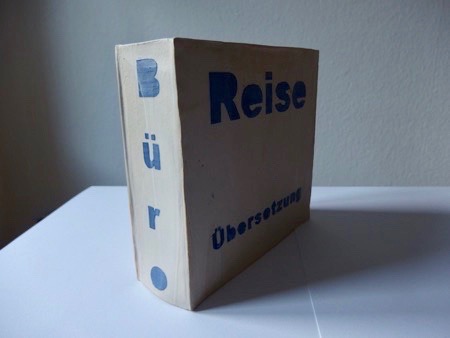 Agency Travel Translation
white clay, blue slip, matt transparent glaze
2015

Shop sign seen in Basel, Switzerland.
Translation for travelling
Translation Agency
translated travel
Maybe essayistic epistolary novels, written en route.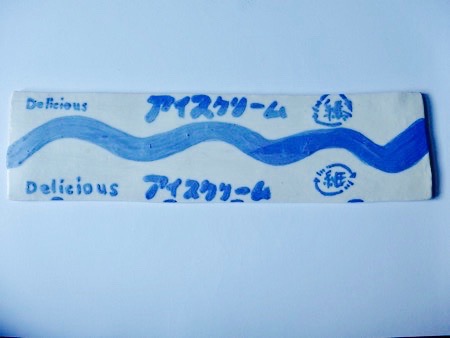 Special Spoon Delicious Ice Cream
porcelain, blue slip, transparent glaze
2015

Wrapping of ice cream spoon from Tokyo, rainfall, just after New Year´s Eve. This ice cream tried to comfort me, it was a good year.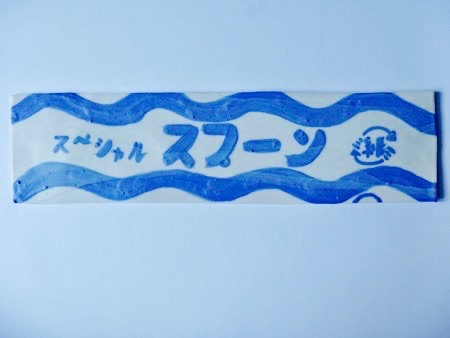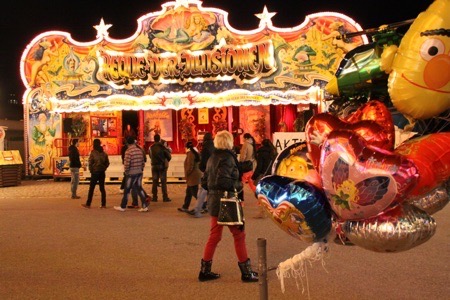 The shortest and strongest man in the world - two in one
within the context of "Aktionen//Attraktionen" by Geheimagentur/Random People/Kampnagel
funfair, Hamburg, 2013

Showing old funfair attractions: Ear soap bubbler, pantophagous human, cannonball catcher, prestidigitator, chain burster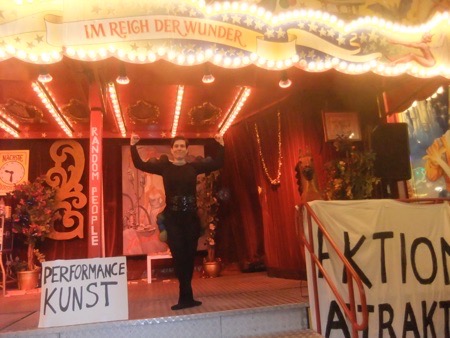 Machi machi demashou
Video, Le Roi et moi, 2:35 minutes, 2011

After all this years: the video for the song. Unpretentious like Japanese cuisine, but not nearly as refined. "We belong to the sea" was played at the wedding ceremony of the performance "My bride ist the sea".

The band "Le Roi et moi" plays queer e-pop. We are Torsten Junge, Schneider, Jim Osthaarchic & Le Danse Russe, sometimes we have guests and background dancer.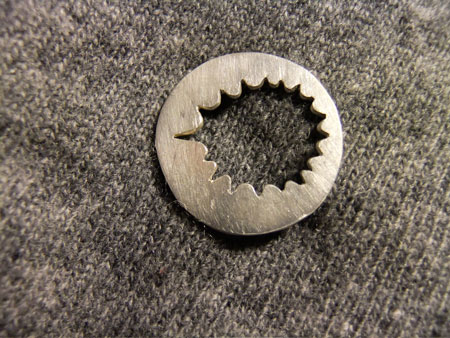 Genpatsu? Okotowari

As pendant or brooch, 2011

Silver (925), 2.8 cm diameter
Pendant fixed with linen yarn,
brooch fixed with safety pin

limited first edition, 11 pieces

No hedgehog, no speech bubble, the plain "Nuclear power? No thanks"-button.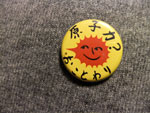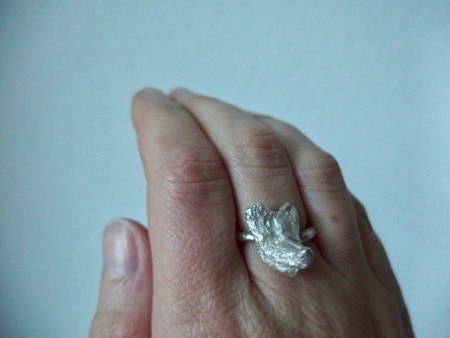 Sanbiki no Kitsune san
waxen fox head, cast in silver (925)
2010

The fox as a guardian of the rice storage key, ring and brooch
Fox trinity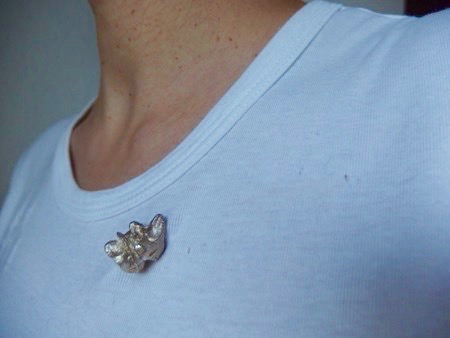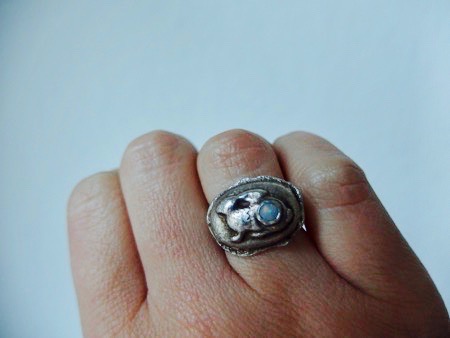 Opal hare
Silver (925), fire opal
2010

Chocolate hare cast in silver, fire opal added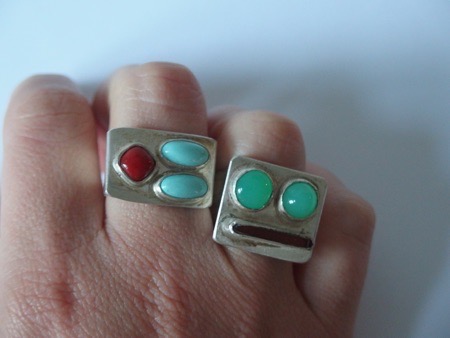 Silver (925), jade, coral
2009

Science fiction movie cockpit buttons, graphic arrangement.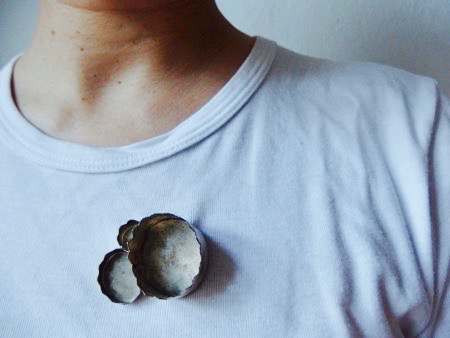 Kingdom
silver (925), cut by dressmaking scissors
2008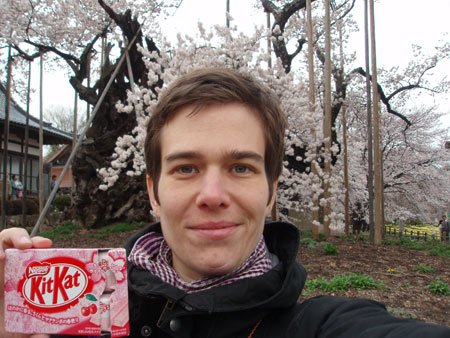 Ichiban no furui no sakura no ki - Cherry Blossom KitKat
(Oldest cherry tree- Cherry Blossom KitKat)
Video, 2:30 minutes, 2007

The Cherry Blossom as a symbol for transiency and also for remembrance and meeting again.The annual short season of cherry blossoming. In a japanese song these thoughts are sung in a very touching way. Like many japanese people I visit the oldest cherry tree in Yamanashi. "Sakura Sakura" is playing and I eat Kitkat with Cherryblossomflavour which carries all the concepts about cherry blossoms in another way.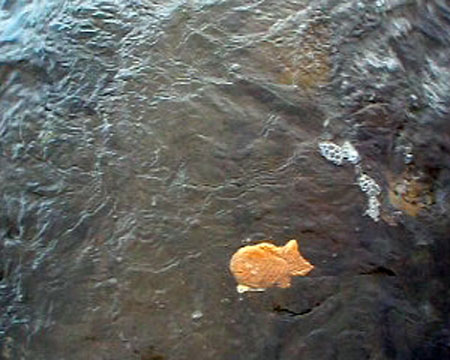 Oyoge Tayakikun- Swim cakefish swim
Video, 4:20 minutes, 2007

All beginnings need a liberation.
I start my encounter with Japan with a reinterpretation of a popular song. A baked "cakefish" is liberating himself, comes to a river and is in the Japanese version hooked and eaten by a fisherman. Symbolically I take the cakefish and liberate him.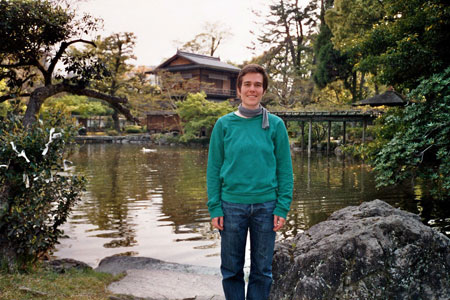 26.4.2007: taken by Yuka, Imperial Palace Garden, Kyoto

Green Thursdays, Japan, 2007

After listening to a lecture about queer manga in japan I decided to wear green every thursday in 2007.The lecturer said that manga characters wearing green clothes or having green hair are gay- especially on thursdays. She said that this colour concept was taken from the european colour symbolism from the 20s of the 20th century.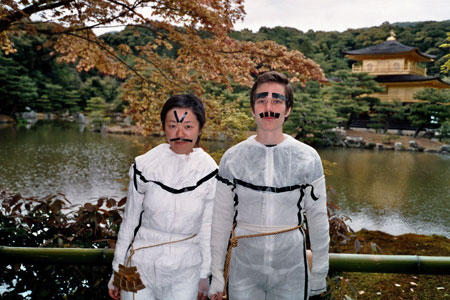 Freddie and Freddy Mercury at the Kinkakuji, Kyoto, 2007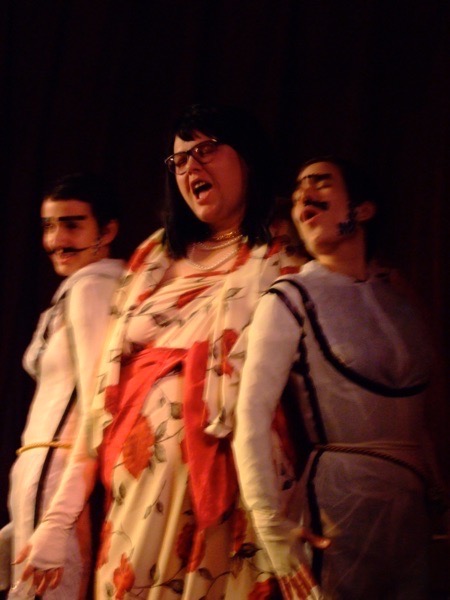 Barthelona
Hamburg, 2007

The Bloodyoung Transvestites (Sy Fableman, Jim Osthaarchic) double Freddie Mercury with a performer of the opera singer Montserrat Caballé (S. Wais) singing "Barcelona". The madding crowd acts like in stadium, we like artists. The audience becomes part of the performance.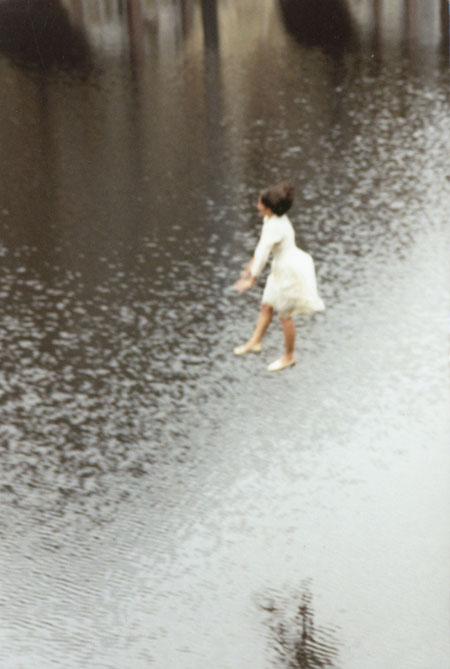 My bride to be ist the sea, 16.6.2002

This is a song line of a hamburgian sailor song.
Between the city of water and gay marriage it was probably the best idea to stage my own wedding with the sea. Between dignity in daily life and being touched.